In May 2012, Maria Laura Pio, the founder and owner of the only website exclusively dedicated to Ryden's messages and activities from a critical point of view, announced that she was closing the website because unable and unwilling to face another lawsuit from Ryden's Foundation.

In 2011, Pio – who is a former TLIG follower and lives in Switzerland - had been sued in Belgium because she had written an article on her website referring to the 2011 Patriarchate of Constantinople's announcement as an excommunication of Ryden. Barely a month after that matter was settled, Pio received a letter from Ryden's lawyers announcing their intention to sue her in the United Kingdom for using their client's registered trademark "Vassula" in her website's name (infovassula.ch).

Suspecting that she was becoming the target of a repetitive lawsuits strategy and "mentally and financially" unable to face other lawsuits, Pio decided to shut down her website. You will find hereunder a chronology of the events as well as the articles on the legal problems.

Note: www.pseudomystica.info is a re-proposal of Pio's website by the Italian association GRIS. See the welcome page for more information.

Chronology of Events
| | |
| --- | --- |
| | November 2011 First article on the lawsuit in Belgium: Lawsuit against Infovassula.ch |
| | January 2012: As reported earlier, a lawsuit against the owner of this website has been engaged by Mrs Ryden and the Foundation for True Life in God. The hearing in front of the Judge took place yesterday (6/1/2012) and concentrated mainly on the matter of the Patriarchate of Constantinople's document, which was incorrectly reported on this website from March 24 to April 14, 2011 as being a formal excommunication of Mrs Ryden. What is in question is to know if the way the information was corrected can be legally considered as a retraction. If not, a formal retraction must be made and communicated correctly. The Judge's ruling should be known towards the end of January. |
| | February 2012: The Judge declares the demand inadmissible because outside that court's competence. Legal costs will be borne by the plaintiffs (TLIG Foundation and Mrs. Ryden). The decision and its motivation can be read in French here. |
| | February 2012: Publication of a formal retraction |
* * *
Lawsuit against Infovassula.ch
By Maria Laura Pio - November 2011
On November 9, 2011, I received an international document summoning me before a judge in Belgium, accused of having damaged Mrs Ryden's and her Foundation's honour and reputation, and requesting the reparation of the damage as well as the removal of some articles from the website.
Last July, I had already received a prior letter from Mrs Ryden's lawyers, then accusing me of offences of a criminal nature punishable by imprisonment. The letter strongly suggested in the letter that all this could be avoided if I accepted a list of Mrs Ryden's demands.
Briefly, the present civil cause summons charges me of having written in March 2011 that the Patriarchate of Constantinople's document was a "decree of excommunication" [1] and of having intended to damage Mrs. Ryden "by belittling her status of mystic among her faithful". The importance given to this action in court is evidenced by the fact that the Foundation asked Mrs Ryden's followers for donations in this sense [2].
Are my articles denigrating or are they the expression of my freedom of opinion? Mrs Ryden is a public and controversial personality. She openly says that the messages she writes come from directly from God and that a public challenge to their divine origin is blasphemy against the Holy Spirit [3]. Such declarations unavoidably arouse critical questioning.
Even though Mrs Ryden focuses her message on the unity of the Churches [4], she takes public actions which, from my point of view, contradict the search for unity. Indeed, I am being charged for qualifying as "schismatic" the nature of Mrs Ryden's decision to proceed with her tour of conferences in Europe in spite of the severe document of the Patriarchate of Constantinople. Mrs Ryden's lawyers wrote:
"Even if the Patriarchate has indeed asked Mrs Ryden to cease her activities among the orthodox community, one has to admit that Mrs Ryden has submitted to the Patriarchate's will. Indeed, since the Patriarchate's communication, Mrs Ryden has only participated in conferences that took place exclusively in northern Europe, where the Orthodox Church is almost absent. Nothing impedes Mrs Ryden from meeting Catholic or Protestant faithful. It therefore results that this "choice of a schismatic nature" is a strict obedience to the Patriarchate's requests."
When Mrs Ryden expresses herself in public, even in front of a non-Orthodox audience, she is presented as an Orthodox faithful. Now, it is the orthodoxy of her teachings that is denied by the Patriarchate. It doesn't matter to whom Vassula addresses her teachings: a person who declares herself Orthodox – according to the Patriarchate's document - must not spread those teachings. Those who nevertheless do so "are not admitted to ecclesiastical communion" (http://www.pseudomystica.info/tliggreekorthodox.htm ).
There is also the question of knowing who should discern charismas: we or the Church? Can someone proclaim himself "mystic"? Does such a proclamation confer a "status" that cannot be questioned?
Moreover, it is inaccurate that Mrs Ryden "has only participated in conferences that took place exclusively in northern Europe, where the Orthodox Church is almost absent". For instance:
The Belgian meeting "Unis par Christ" (United by Christ) to which Mrs Ryden participated on April 2 and 3, 2011, after the publication of the Patriarchate's document, was an ecumenical event, open to the participation of the Orthodox faithful. There are between 70.000 and 80.000 Orthodox people in Belgium [5] and the Patriarchate of Constantinople is present with a local Metropolis: the Holy Metropolis of Belgium based in Brussels.
On October 23 Mrs Ryden held a conference in Berlin. There are 1.200.000 Orthodox people in Germany, including 400.000 Greeks, and a local Metropolis: the Holy Metropolis of Germany based in Bonn.
On November 20, a whole day conference and prayer meeting is scheduled in Marseille. There are 300.000 Orthodox faithful in France, a local Metropolis based in Paris and an important Orthodox community in Marseille (4 Greek-Orthodox parishes). Incidentally, the Catholic bishops of the region have issued a warning regarding this event (see: http://www.pseudomystica.info/tligmarseille.htm ).
It seems to me that I am mostly charged for not accepting the interpretation given by Mrs Ryden on the documents issued against her by the Churches, as well as questioning the actions she takes. Although Infovassula is "home-made" and cannot compete with the many websites, blogs, Facebook page, etc. supervised by Mrs Ryden's organization, my website's articles are a nuisance because they provide difficult to find information and raise the real questions that any believer needs to ask when confronted with the discernment of a private revelation such as this.
Maria Laura Pio
November 25, 2011
[1] The Patriarchate's document is not a "decree of excommunication", but rather a condemnation (the Foundation for TLIG considers it an "accusation of heresy"). The document states that "the proponents of these unacceptable innovations [= TLIG teachings] and the supporters who maintain them (…) henceforth are not admitted to ecclesiastical communion". See: http://www.infovassula.ch/tliggreekorthodox.htm
[2] In September 2011, the Foundation for True Life in God made a "Call for donations for the defence of Vassula". The author of the letter, Albert Muller, the Foundation's Executive Secretary, wrote: "The persecution recently suffered by Vassula and the True Life in God messages has increased to the point of spreading the rumour of her excommunication by her Church. (…) We are examining the measures that can and must be taken for the public defence of Vassula with all the means available. (…) We therefore call upon the True Life in God family, so that it unites and rises to defend Vassula and our faith in the True Life in God messages. (…) In order to choose the best way of sending us your donations, we invite you to consult the section "Donations and Support" on the website www.tlig.org ".
[3] See http://www.pseudomystica.info/tligmortalsin.htm A long-time follower of Vassula described her as "one of God's great Prophets, comparable with the Prophets of the Old Testament. The prophecy of the True Life in God messages is not an optional extra. This treasure from God is one of God's great gifts to mankind. If rejected, it really does seem to me to amount to the unforgivable rejection of the Holy Spirit" (http://www.tlig.net/newphpBB2/viewtopic.php?t=1576&postdays=0&postorder=asc&start=16 ).
[4] The letter sent to me by Mrs Ryden's lawyers begins as follows: "Mrs Vassula Ryden is the author of a work titled True Life in God: a divine dialogue which contains many messages designed to promote the reunification of the Christian Churches under the authority of the Pope and the Foundation's founder [= Vassula]".
[5] Numbers taken from "Histoire de l'Eglise orthodoxe en Europe occidentale au 20ème siècle" http://orthodoxie.ch/p/2004-2005/news_12.shtml.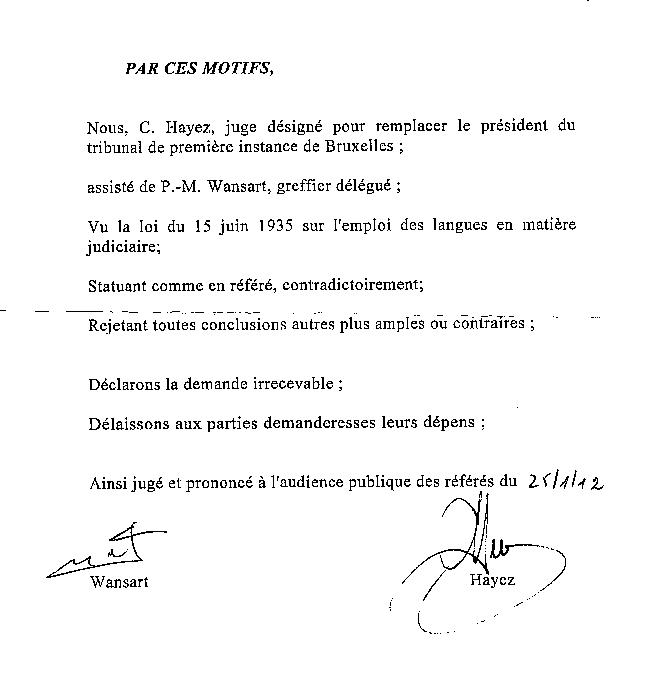 * * *
Text of the Retraction published in February 2012. Please note that the retraction was not ordered by the Judge (the case was dismissed) but done by Mrs Pio in an attempt to put an end to the matter. See: Lawsuit against Infovassula.ch: the whole story
FORMAL RETRACTION: The Patriarchate's document is not a decree of excommunication of Mrs. Ryden
Between March 24 and April 14, 2011 this website reported an information – proved erroneous – spread by several Orthodox websites, who referred to the document of the Ecumenical Patriarchate of

Constantinople

dated March 16, 2011 as a formal excommunication of Mrs Ryden. On April 14, 2011 I came across arguments of a canonical nature that brought into question the exactitude of that interpretation, since the document did not seem to be the result of the canonical procedure necessary for a formal excommunication. I deeply regretted this mistake, because my intention is always to inform correctly. Maria Laura Pio – February 27, 2012.