Summary
1. Announcement by the Ecumenical Patriarchate of

Constantinople on Vassula Ryden's teachings, January 2011
The Holy Synod of the Ecumenical Patriarchate of Constantinople has published an announcement dated March 16, 2011 condemning Vassula Ryden's teachings. This announcement is particularely important because it is issued by an ecclesiastical authority of reference for Greek Orthodox faithful. Vassula has been for many years a Greek Orthodox of the diaspora and now resides in Greece.

The original announcement was published on the website of the Greek Orthodox Patriarchate of Constantinople (http://www.ec-patr.org/docdisplay.php?lang=gr&id=1306&tla=gr). The Mystagogy blog was the first to propose a translation to English. More recently, a "certified" translation was proposed also by the Defending-Vassula Website. However, they do not indicate what they mean by "certified". We reproduce hereunder the relevant part of the decree indicating between brackets the variations in translation:

"In this spirit, and for the beneficial protection of our pious Orthodox plenitude from dangerous spiritual confusion, who do not know well matters underlying the risk of delusion,[Sanidopoulos:: we denounce from the Mother Church Vasiliki Paraskevis Pentaki - Ryden, widely known as "Vassula", and her organization founded under the title "True Life In God" which rashly and frivolously proposes teachings] [TLIG Foundation: Mother Church disapproves of the rash and frivolous teachings of Vassula and her organization founded under the title "True Life in God", which are] based on the supposed "direct dialogue between her and the Founder of the Church Jesus Christ our Lord", and those conquered by her and the supporters of "True Life In God", which deviate arbitrarily from the God-given teaching of the Church, but also scandalize the Orthodox phronema [*] of pious believers.


Hence, we call upon the proponents of these unacceptable innovations and the supporters who maintain them, who henceforth are not admitted to ecclesiastical communion, not only to not be involved in the pastoral work of the local Holy Metropolis, but also to not preach their novel teachings, to prevent the appropriate sanctions under the Holy Canons.


We express, lastly, the profound sorrow of the Ecumenical Patriarchate of the acts of some - fortunately few - clergy of the Orthodox Church to be found at talks of the said "Vassula" and give to her a "certificate of Orthodoxy."

[*] Phronema is a Greek term that is used in Orthodox theology to refer to mindset or outlook; it is the Orthodox mind. The attaining of phronema is a matter of practicing the correct faith (orthodoxia) in the correct manner (orthopraxia). Source:https://en.wikipedia.org/wiki/Phronema

Contrary to what was incorrectly reported on this website from March 24 to April 14, 2011, the Patriarchate's document is not a decree of excommunication, because it is not the result of a canonical procedure in that sense. According to the Foundation for TLIG - an entity created by Mrs Ryden in 2008 to manage her copyrights as well as all organizational and legal matters linked to the publication and promotion of her writings - the Patriarchate's announcement is an "accusation of heresy" requesting "Vassula and her followers to discontinue the dissemination of the TLIG messages and to renounce their teachings in order to avoid the appropriate sanctions under the Holy Canons" (read the complete statement here: http://www.defending-vassula.org/orthodox-patriarchate-foundation).

Since the Patriarchate made its announcement, Vassula has continued with her scheduled tour of conferences for the promotion of her messages. On May 5, 2011 she released a "new message from Jesus" titled "Tell My people and remind them..." The message refers to insults and persecutions, asking readers to console one another and to exercise "love of your neighbor". He also calls readers to "refuse to sell My Blood" and to continue to proclaim his Messages. He promises punishment for those who "stone" his prophets". The complete message can be read here: http://www.tlig.org/en/news/2011-05-05/2139/)

A more detailed article on the official TLIG reactions to the Patriarchate's announcement can be found here.

See also:

- May 2011 According to the Foundation for TLIG, the Patriarchate's announcement is an accusation of heresy

- May 2010 Illicit concelebration during Vassula's visit to Romania in May 2010

- April 2010 My Translation of the Patriarchal Decree Against Vassula Ryden, by John Sanidopoulos.

2.

Vassula had been the object of a

prohibition to receive the

Eucharist a year before the Patriarchate's announcement (2010)

The measure was taken by the Metropolitan of Rhodes and based on the 2001 ruling of the Committee on Heresies of the Holy Synod of the Orthodox Church of Greece. Read more: http://www.pseudomystica.info/rhodesmetrop.htm

3

. Rulings of the Committee on Heresies of the

Holy Synod regarding Vassula Rydén (2001)
| | |
| --- | --- |
| | Added July 2008 Orthodox Church of Greece: In 2001 the Committee on Heresies of the Holy Synod published the following decision regarding Vassula Ryden (non-official translation from Greek): |
"The Committee, having examined the evidence, has reached the conclusion that Vassula Ryden has expelled herself [*] from the Orthodox Church, although she still presents herself as a member.

In addition it should be known that the Church periodical "Dialogos" in its issues number 14 and 17 (...) has printed extensive reports regarding Vassula Ryden's organization.

Vassula asked the Greek Minister of Justice to bring to trial for slander and libel both the Secretary of the Greek Orthodox Synodal Commission on Heresies, Fr. Kyriakos Tsouros, and the Church publication. The trial was scheduled for 30 June 2000; however Ryden withdrew the charge two days before the hearing." (Dialogos, issue number 25, page 32, 2001.)

[*] The Greek text uses the word ekpései, which is of difficult translation. In fact, some websites have incorrectly translated it as "excommunicated". According to the Orthodox source we consulted, the literal translation of the text would be: "she threw herself out of the Orthodox Church". Another source suggested: "Vassula Ryden is cut off from the Orthodox Church". From what we have been able to gather, the main reason is that Mrs Ryden is seen as not acting as an Orthodox faithful by not following canonical discipline, for instance by regularly receiving Catholic Sacraments, which is considered a form of resigning from the Orthodox Church (see also: "May Vassula Ryden receive Holy Communion when participating in Catholic Masses?").

We include at the bottom of this page two of the Dialogos articles in Greek regarding Mrs. Ryden and which are also available on the official website of the Greek Orthodox Church www.ecclesia.gr:
Orthodox Church of Cyprus - January 2012. The Synodical Committee for Matters of Heresy issued an announcement confirming the heretical positions of Vassula Rydén. Read more: http://www.pseudomystica.info/cyprus.htm

Cretan Archdiocese - September 2001. Issued a press release warning against TLIG and discouraging people to attend a meeting where Vassula was to talk, qualifying her of "anti-orthodox".
| | |
| --- | --- |
| | Metropolite Mons. Damaskinos, Swiss diocese of the Ecumenical Patriarcate of Constantinople. In 1996, Mons. Damaskinos declared that Vassula Ryden, in the eyes of all those who are considered as the authentic bearers and continuers of the tradition of the Orthodox Church, was opposing the conscience of that Church which believes that Divine Revelation has been achieved once and for all through the Apostles. He also criticized in that occasion the attitude of the seer, who had organized a broadly advertised meeting on the same date that the Geneva Churches and Christian communities had scheduled their annual gathering for the Christian Unity Week. More Info (in French)... |
| | |
| --- | --- |
| | Patriarcate of Constantinople, Buenos Aires, Argentina. In 1995, Fundacion SPES of Argentina asked the representative of the Greek Orthodox Church in that country about the case of Vassula Ryden. The answer was given by Fr. Demonstenes in the name of Mons. Gennadios Chrysoulakys. He stated that the Greek Orthodox Church does not recognize any voice outside the established ecclesiastical hierarchy and if Mrs. Ryden has something to communicate, she should do it through the hierarchy. More Info (in Spanish)... |
5. Coptic Orthodox Church
Statement from the Metropolitan of Glastonbury (2005)
| | |
| --- | --- |
| | Coptic Orthodox Church Statement from His Eminence Abba Seraphim, Metropolitan of Glastonbury, regarding Mrs. Vassula Ryden, August 2005: In a General Memorandum to the clergy of the British Orthodox Church, His Eminence Abba Seraphim offered the following guidance to the clergy and faithful: |
1. In receiving the sacraments at altars other than those of the Orthodox Church [justifying this by quoting the Decree Orientarium Ecclesiarum of Vatican II], Mrs Ryden is disregarding Orthodox canonical discipline which forbids it.
2. Mrs Ryden should seek the canonical permission and blessing of the local Orthodox hierarch having jurisdiction in each place, prior to addressing public meetings, rather than act in the face of their sometimes expressed opposition and criticism.
3. Until such time as a canonical Orthodox hierarchy is able to make a detailed and full examination of the messages received by Mrs. Ryden, they should be regarded with grave caution and their authority attributed solely to the views and aspirations of Mrs Ryden herself, rather than any angelic, saintly or divine source.
His Eminence Abba Seraphim also points out that Mrs Ryden has found enthusiastic supporters among numbers of the Anglican, Catholic and Orthodox clergy and has often utilised the opportunities offered by 'Inter religious Pilgrimages' she organizes (such as her ones to the Holy Land in March 2000 and to Egypt in October 2002) to cultivate members of the local hierarchy, who are not always fully aware of all her activities.
This memorandum was published in the www.britishorthodox.org website in February 2006, with an extra note indicating that "the statement in the True Life in God UK Newsletter No. 6 (November 2005) that His Eminence Abba Seraphim along with H.M. Queen Elisabeth II and the Archbishop of Canterbury, 'sent us their good wishes for the meeting' is untrue. An invitation was sent to Abba Seraphim and a reply sent on his behalf stating that he had another engagement and would be unable to attend, but asking to be kept on the TLIG mailing list and for copies of the documentation supplied to be sent to other Orthodox hierarchs in the United Kingdom." (Read the entire article in https://web.archive.org/web/20151124053030/http://britishorthodox.org/glastonbury-review-archive/glastonbury-review-archive-issue-113/3/ towards the end of the page).
In 2004, I received this critique from a Christian Orthodox who accepted to have it published in my website. I finally do so here, with my apologies for the very long delay.
A critique of Vassula & True Life in God
by a Christian Orthodox
JOHN 10: 1- 5
"I tell you the truth, the man who does not enter the sheep pen by the gate, but climbs in by some other way, is a thief and a robber. 2The man who enters by the gate is the shepherd of his sheep. 3The watchman opens the gate for him, and the sheep listen to his voice. He calls his own sheep by name and leads them out. 4When he has brought out all his own, he goes on ahead of them, and his sheep follow him because they know his voice. 5But they will never follow a stranger; in fact, they will run away from him because they do not recognize a stranger's voice."
For over 15 years in this age of the Internet Vassula has promoted her writings globally in many languages. If her writings were of Christ, should not His sheep the world over have been flocking to those writings?

Would Christ choose a method of communication with mankind, automatic writing, that has a long prominent history of use in the Occult?

Would Christ take away the free will of someone by controlling their body to write in a script not their own? The Divine Words of Christ are heard by His sheep regardless of the medium.

Would Christ be so incredibly verbose, repetitive, ambiguous, wandering in focus, and given to expressing Himself on mundane matters set within narrow time frames?

Would Christ want to create an organization (TLIG) that was outside the Church, and give His 'new revelation' to an individual who becomes the main focus in the lives of the organization's members?

Would Christ communicate in such a cryptic way that one needed to be privy to TLIG interpretations to be able to understand His words?

Would God speak, as "He" does in the samples shown below, to those who would understandably question the writings of Vassula?

Would God's new messenger condemn those who would reasonably question her writings? See excerpt from a letter to Vassula's followers below.

Would a Christ created organization exhibit the classic hallmarks of: a charismatic leader dispensing mystical/esoteric knowledge to an insular group of "enlightened" people who see any criticism from outside as being evil?

IF CHRIST WERE COMMUNICATING THROUGH VASSULA WOULD HE NOT BE TELLING US THAT THE SALVATION OF MAN IS NOT COMPLETELY FOUND IN SCRIPTURE AND SACRED TRADITION?
SAMPLES OF THE WRITING
The following sample is taken from http://www.tlig.org/msg/vasb1060.html and that document is titled: TO CONCEAL MY VOICE IS A MORTAL SIN MY SERVANTS ARE FORMED FROM MY WORDS
………….to conceal My Voice is a mortal sin; to sift Me through and through and scan Me is an abhorrent sin in My Eyes; will your incredulity say one day: "but look, we did not know; we did not know that we offended Your Mercy;" indeed you have offended My Mercy; not only have you offended My Mercy but you have allowed the evil powers to gain ground and despoil the House My Son bought with His Precious Blood, because of your incredulity; and how! how ingeniously you get round My Words in order to justify your incredulity!.................
The following sample is taken from http://www.tlig.org/en/news/2002-01-10/257/ being part of a letter to TLIG followers from Vassula. The letter in its entirety is very revealing of the mind set of this organization
…………..Then what follows is a reminder to all those who fearlessly persecute the merciful call of God, even to call it evil, throwing mud on it that by doing so, they are blaspheming the Holy Spirit, committing the unforgivable sin. This is what he says: "Read our messages and stop being scornful or deaf when heaven speaks. Lower your voices and you will hear ours. Think twice before you judge; think more than twice before you condemn the works of the Holy Spirit. I shall not spare anyone who mocks the Holy Spirit, blaspheming him outright". Then he reminds us of what awaits those who blaspheme, "Justice will send them down to the underworld"…………..



"Rulings of C.S. on sects for Vasoula Ryden
and Panagiotis Toulatos"
Dialogos, number 25, page 32, 2001
http://www.ecclesia.gr/greek/holysynod/commitees/heresies/dialogos/Dialogos25.pdf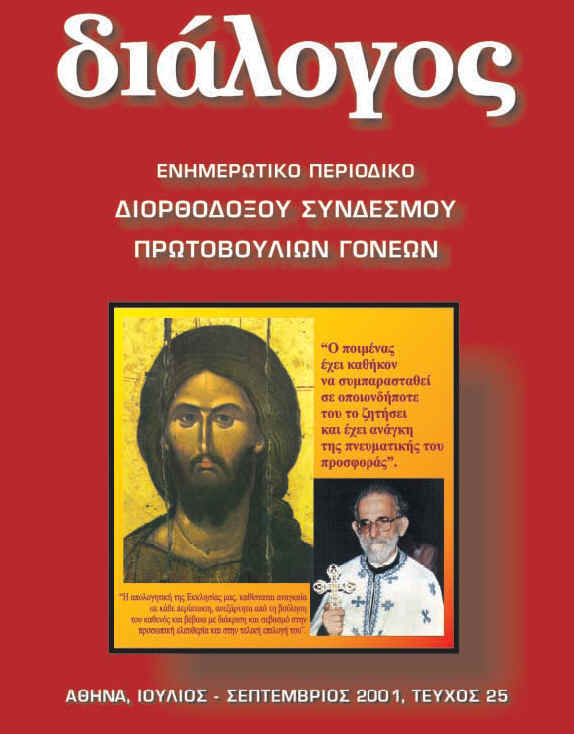 "Vasoula Ryden… complains", by Rev. Protopresbyter Kyriakos Tsouros

Dialogos, number 17, pages 21-23, 1999

http://www.ecclesia.gr/greek/holysynod/commitees/heresies/dialogos/17.pdf